Build Client Loyalty to Build Better Business
Online / Zoom Webinar
2:00p Eastern Time
Susan Saltonstall Duncan
Susan Duncan is the founder of RainMaking Oasis and has provided management consulting and coaching services to lawyers and law firms for over 35 years. She consults on firm and practice/sector strategy, client development, feedback and needs assessment interviews, business and client development, succession planning, lateral integration, firm values, visions and culture and innovation. Susan previously served in in-house roles including Director of Professional Development, Director of Business Development and as Chief Strategy Officer for a Global 25 law firm. She was inducted as a Fellow in the College of Law Practice Management (COLPM) and into the Legal Marketing Association's Hall of Fame.
2:00 PM (Eastern Time)
Build Client Loyalty to Build Better Business
It has never been more important than now to provide an exceptional client experience and ensure client satisfaction. We know from Frederick F. Reichheld, a former Bain & Co. consultant and creator of the Net Promoter Score®, that the most satisfied clients become the most loyal, directly contributing to new referrals, revenue stability and higher profitability.
In this one-hour webinar, we'll hear from veteran law firm consultant Susan Saltonstall Duncan, author of newly released Building Enduring Client Loyalty: A Guide for Lawyers and Their Firms. She will provide top tips and takeaways from her new Special Report focusing on being a trusted advisor, adding and enabling value, managing key client teams, planning for partner and client succession, and developing a client-centric mindset through feedback and continuous improvement.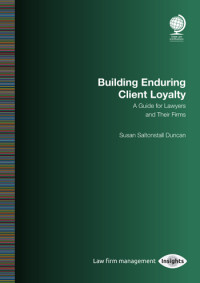 Trial Network members will receive a special 20% discount on the publication which is available in both hard copy and eBook format. Simply enter the code "trialnetwork" on checkout to obtain your discount. Go to  https://www.globelawandbusiness.com/special-reports/building-enduring-client-loyalty-a-guide-for-lawyers-and-their-firms for further details and to order.  (Larger discounts are available for firms that want to order in larger volume: contact sian@globelawandbusiness.com for further details).